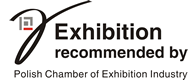 22.09.2016
Ukrainian magazine 'Mebelnoe delo' (Furniture Business), an exhibitor of FURNICA 2016, is going to publish a special review about DREMA / FURNICA / SOFAB 2016 in the next magazine issue. Publication date is November 15, 2016. The exhibitors of this trade fair can promote their products in this publication at a special price.
15.09.2016
"You are a role model for other industries" said the Minister of Development on Thursday to the participants of the National Furniture Congress "Polish Furniture – Competitive Poland" at the FURNICA and SOFAB 2016 fairs [gallery]
15.09.2016
The jubilee, fifteenth edition of the Championship, which is very popular among the representatives of the wood industry due to the element of sportsmanship, friendly atmosphere and great fun! The competition is divided into two stages - a daily and a final one. The participants' task is to hammer five 3.5-inch nails into a wooden square timber with five hammer hits (one hit for one nail).
More news
---

Join us!